Copper Chrome Silicon Nickel Alloy (C18000)
Description:
C18000 – Copper Nickel Silicon Chrome alloy combines high conductivity and moderate strength and hardness and is often specified as inserts for plastic injection mold, resistance welding components, and die casting plunger tips. We serve customers in the automotive and consumer products industries, including appliances, toys and packaging, and we offer design assistance with non-traditional shapes and sizes.
Our Franklin plant manufactures C18000 under our trade name Thermal-Mould™ 180 in plate, bar, rounds, rings and the industry's largest blocks for plastic mold tooling inserts, such as bumper fascias.
Applications of C18000: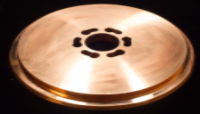 C18000 Copper Chrome Silicon Nickel Alloy is typically used in resistance welding tips, resistance welding wheels and fixtures, stud welding collets and tips, inserts in plastic injection molds, blow mold pinch offs, mold cavities for blow molds, hot runner systems for injection molds, cores, and ejector pins for injection molds, plunger tips for metal die casting machines and casting dies.
Forms Supplied:
C18000 Copper Nickel Silicon Chrome alloy is available from IBC Advanced Alloys as rings, discs, bars, rods and plates. All forging, heat treatment, and surface milling is done in-house.
For More Information:
Latest News
IBC and NioCorp successfully complete the initial casting campaign for Aluminum-Scandium alloys. This testing is the basis for commercializing Aluminum-Scandium alloys. See more details here.
Latest Presentation
Go here
to download IBC's latest corporate presentation, in print-ready PDF form, which provides information on the Company, its products and markets, innovative technologies, and latest financial performance.