IBC operates four U.S.-based manufacturing facilities under two manufacturing divisions–Copper Alloys and Engineered Materials Corp. (EMC).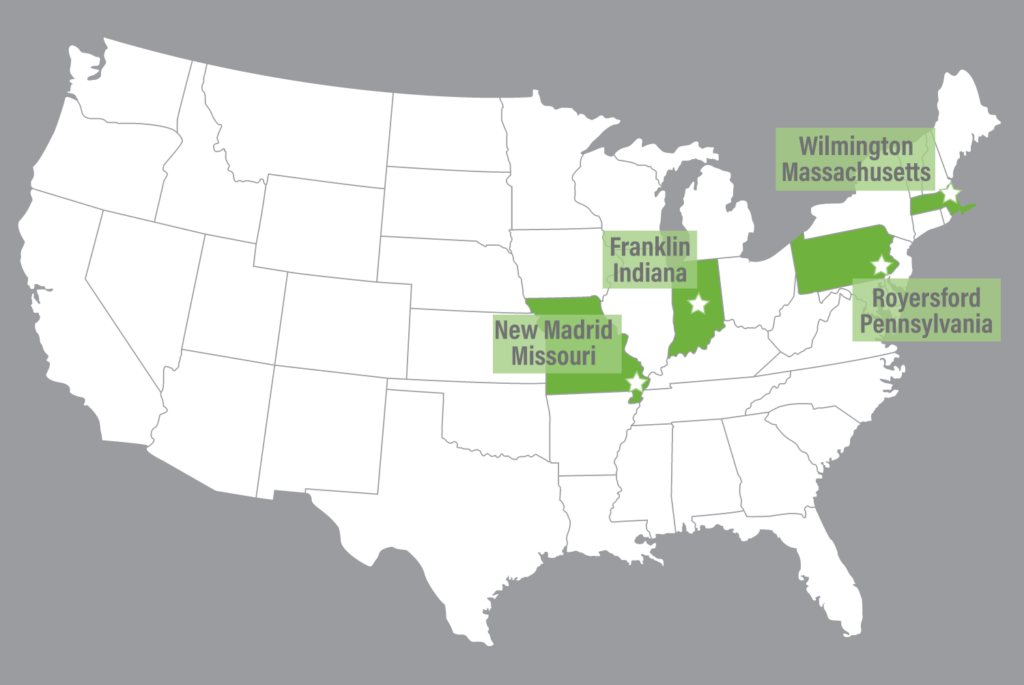 IBC Advanced Alloys
Copper Alloys Division / Corporate Headquarters
401 Arvin Road, Franklin IN USA 46131
Toll Free: (800) 423-5612 | T: (317) 738-2558
Franklin, Indiana
Our Franklin facility is the primary manufacturing facility in the Copper Alloys division and serves as our corporate headquarters. Founded in 1946, it features a large 1,500 ton forge press, a new state-of-the-art solution annealing furnace and quench tank system, three forge hammers, a ring rolling mill, a complete heat treatment center, lathes, milling machines, CNC equipment, and various saws. The plant sits on 4.8 hectares (12.0 acres) of land that has considerable room for expansion should economic conditions and business plans call for such expansion.
IBC Engineered Materials Division
Wilmington Plant
55 Jonspin Road, Wilmington, MA USA 01887
Toll Free: (855) 237-2522 | T: (978) 284-8900
Wilmington, Massachusetts
At our beryllium alloy manufacturing facility in Wilmington, we supply high-performance beryllium-aluminum components to the aerospace and high-tech manufacturing sectors. We currently manufacture the Beralcast® family of metal matrices that are used in commercial and military applications requiring complex, lightweight and/or high-stiffness parts. We have additional, higher-performance products in development. Using our proprietary manufacturing techniques, our objective is to make beryllium-aluminum components more accessible and cost-effective for a wide range of industries and applications.
IBC Copper Alloys Division
New Madrid Plant
2 Hope Way, New Madrid, MO 63869, USA
Phone: (573) 748-9000
New Madrid, Missouri Our New Madrid facility casts of a wide variety of copper alloys. Located on a 2.4-hectare (6.0 acres) site 265 kilometers (165 miles) south of St. Louis, Missouri, it has two furnaces and is capable of producing billets in a range of sizes and compositions. This facility is underutilized and, as a result, there is room for significant expansion of plant operations at this location should economic conditions and business plans call for such expansion.
IBC Copper Alloys Division
Royersford Plant
155 Railroad Plaza # 1, Royersford, PA 19468
Phone: (610) 792-3202
Royersford, Pennsylvania
Our Royersford facility manufactures beryllium-containing casting and master alloys as well as beryllium-nickel and beryllium-aluminum master alloy products. The plant has three furnaces that have been adapted to meet the specialized requirements of beryllium alloy manufacturing. We have strong technical and manufacturing engineering resources in the highly specialized beryllium and beryllium containing alloy industry. This gives us the capability to manufacture large 21-inch diameter beryllium copper input billets weighing up to two tons. These large-scale as-cast billets exhibit consistently fine-grained, uniform micro-structures coupled with high purity, low carbide chemical compositions.